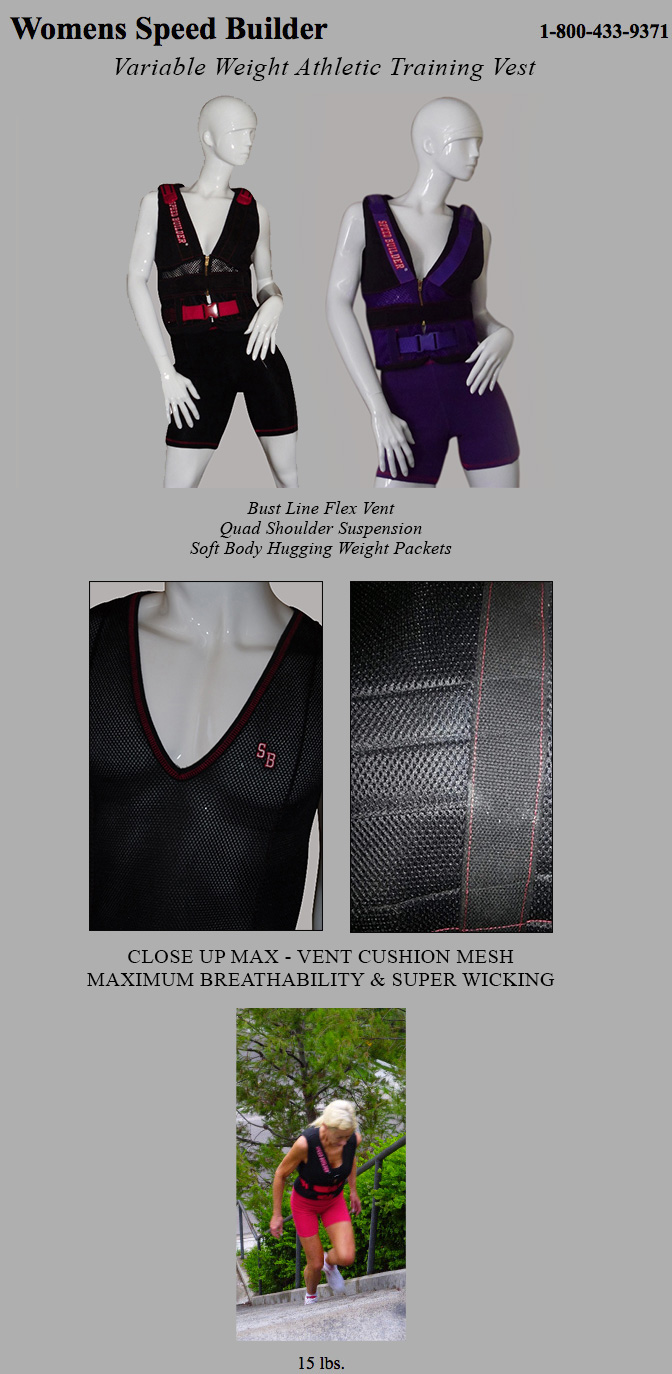 College, Pro and Crossfit athletes, for maximum, fast results, just wear SPEED BUILDER throughtout the entire WOD or workout. SPEED BUILDER Women's Athletic Training Top and weighted vests add resistance for enhanced training purposes. However, that's where the similarities end. Unlike a conventional weight vest, the SPEED BUILDER is anatomically perfect for women and therefore it should be worn throughout the entire workout or WOD.
Female athlete's, never, never wear solid weights on your upper torso. Too risky!!
By contrast, SPEED BUILDER's patented features like Bust Line Flex Vent, Quad Shoulder Suspension and Soft Body Hugging Weight Packets allow for hours of comfortable, aggressive training. NO sore shoulders…NO bounce…NO upper torso impact.
Female sprinters knock off over 1/10th of a second from starts (1st 20 meters) within 60 days.
Achieve fast track body shaping results from running, jogging or Crossfit WOD's. Designed for all female athletic training, Track & Field, Soccer, Boxing etc., to escalate your speed, strength and conditioning gains much faster than you possibly can without it.
Weight range…1 1/2 to 22 lbs.
Body shaping…toned legs, defined arms and shoulders.
1-800-433-9371 U.S. PATENT
Stair work wearing 15 lbs.
"Black Orchid"
SPEED BUILDER.
Work and fast track your gluts and define your legs and shoulders, like never before.